Surely you've all seen the old show Punk'd where Ashton Kutcher plays elaborate pranks on fellow celebrities. You'd laugh along while the looks on those being Punk'd would say, "Is this shit really happening to me?" At the end of the episode the prank would be revealed and everyone would have a hardy laugh. And possibly utter a colorful string of curse words.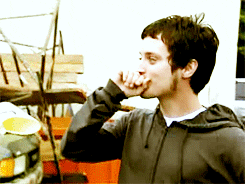 In the end, no one was ever hurt and it was all hilarious. Well, most of the time. But can you go too far with a prank? Can carrying out a convincing prank be irresponsible and dangerous?
I think so.
I was scrolling through Facebook feed the other day, bored as all get-out, when I happened upon the following video.
In case you're at work and can't watch the clip, or if you're like me and don't always have the time or inclination to watch videos, I'll break it down for you: some dude in a hockey mask is terrorizing folks in the 'hood with a chainsaw and chasing them down the street, Friday the 13th style.
Admittedly, it's kind of funny to watch the reactions of people when they see an obviously deranged man coming after them with a live chainsaw. Folks are literally falling over each other to get away from the chainsaw-wielding menace. But what if something went wrong? What if one of those people decided to defend him or herself instead of running? What if one of those people had a conceal/carry license and decided to invoke the Stand Your Ground law? What if this hypothetical person whipped his or her pistol out and frantically started pulling the trigger?
I think someone threatening you with a chainsaw is sufficient reason to defend yourself.
I'm all for a good prank, but there needs to be a line drawn somewhere. Putting a bear in someone's car or dressing up as the FBI and raiding someone's house under the guise of tax fraud (famous Punk'd pranks) are certainly things I'd never want to experience, but could probably laugh off after the prank was revealed. However, someone inducing life-threatening fear as part of a prank is not something I think I could look past. Someone could have been seriously injured or worse during this stunt, and the person responsible for this prank needs to be aware of the possible consequences of pulling such a ruse.
As with all things in life, moderation is key. We all love to have a good laugh, especially at the expense of others, but most of us don't enjoy soiling ourselves in life-threatening fear. Let's be responsible with our pranks.
*It's purely coincidental that this was published on April Fool's Day. I promise.