It's Saturday! The weekend is under way! Being that it's Saturday, of course, means it's time for the Saturday 9, hosted by Sam.
This week's theme is the song I'll Be There For You, which was the theme song for Friends, the best sitcom EVAR!
So sit back and enjoy learning more about me than you ever cared to know…
---
1) This song begins with, "So no one told you life was gonna be this way …" What do you wish you knew five years ago about your life now?
I don't wish to know anything so much as I wish I knew how to do something. I wish I knew not to make decisions while emotional and conflicted.
2) This is, of course, the theme from Friends, which is frequently shown back-to-back on TVLand and TBS. Have you ever "binge-watched" a show, catching episode after episode?
Of course. Revis owns all ten seasons on DVD and I watched them all from beginning to end a couple of times when I lived with him a few years ago.

3) On the show, Monica and Rachel shared a beautiful 2BR/2BA Soho apartment with a private balcony. It's estimated that such a pad would cost at least $3500/month in today's real-life New York. Describe your dream home.
Frankly, I'd settle for any home that had enough room for me and the kids. I can't afford to be picky at this point. Hell, I'd even take a fixer-upper. I know how to fix a few things and for those things I don't I know people who do. 

4) Of the six main characters, only Chandler was an only child. Do you have any siblings? 
I am the oldest of three. Of course, most of you know Revis, who is 13 months younger than I am. I also have another brother who is 3 years younger. I do have two step-brothers and a step-sister, as well. (Side note: Chandler was the best part of the show.)

5) Gunther was the barista at Central Perk, the coffee shop where the Friends hung out. He had an ongoing, unrequited love for Rachel. Are you crushing on anyone right now? Does he/she know? 
No. I am not crushing on anyone. Frankly, I've decided I'm done with that shit for a while. It's not worth it. Hopefully my heart concurs (like a doctor).

6) Currently Matt ("Joey") LeBlanc stars in the Showtime series Episodes, playing a character named Matt LeBlanc. If there was going to be series based on your life, who would play you?
Honestly, I'd probably pick Matthew Perry. His ability to sarcasm and need to mock things he finds stupid as Chandler is almost identical to mine. In fact, I identify with Chandler in many ways. I'm socially awkward and suck at relationships, too. Perry would be the perfect pick.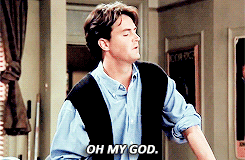 7) Courtney Cox, who portrayed Monica, has the Twitter handle @CourtneyCox and has 628,000 followers. What was your last tweet?
@Cursitivity @wedontchewglass @SamaraSpeaks ohhhh…then I concur….like a doctor.—
Twindaddy (@Drun_Kenman) April 11, 2014
8) The creators of Friends were massive soap opera fans. They named their characters after recurring characters on All My Children* and had Joey appear on Days of Our Lives. Have you ever been hooked on a daytime drama?
No. I've never been home during the day to actually have a chance to get hooked on a daytime drama. Besides, there's normally always enough drama going on at any of my jobs for me to want to actively avoid any drama elsewhere.


9) The band who performed this song, The Rembrandts, took their name from the famous Dutch painter. Can you see any artwork from where you're sitting right now? Tell us about it (and yes, a school painting by your 7-year-old nephew counts).
Well, since photography is an art, then yes. My living room is saturated with family photos, most of which are photos of my children. I also have some photos of my brothers, parents, and family members who have passed on. There is also my Star Wars wall, where I have framed artwork, posters, and puzzles.
---
Thank you, Sam, for another great week of questions! If any of you would like to participate, head on over to Saturday 9 and link up! The questions are always pretty unique and fun to answer.